Goodness me! I've just realised that it's been a month since I last posted about something crafty on here! It's not for lack of crafting, let me tell you! Infact, it's probably exactly why I haven't managed to post.. aside from the fact that it's "that time of year" and things have been super busy with end of year concerts and parties as well as half a dozen birthdays, I've been spending quite a bit of time focussing on the actual crafting which has left significantly less time for the blogging. I've been lagging behind badly on my blog reading, too - falling asleep on the sofa has become my new normal.
So here's some of the stuff that I've been doing this last month...
Crochet "wine glass cover" #3 - about 3 rows to go.
My first completed "Split Drunkard's Path Star" (will blog tutorial)
2 stars plus the tumbler medallion.. Harry Potter Quilt still in progress
Quilt for Blossom's Kindy teacher, who is retiring.
Each child in the class decorated a square, and I put it all together.
Back of the teacher quilt.
Christmas table runner, complete!
I just love the backing fabric.. might even pretend it's reversible ;)
I also broke my fabric ban.. it all started so innocently.. with a voucher for $40 off at Spotlight when you spent $100... and I needed more fabric/batting for the quilt for Blossom's teacher, so it totally didn't count towards the fabric ban.. and my husband decided that I should make some "Minecraft Creepers" for Bean & Blossom (like
these
) so I had to buy fabric for those (because I seriously need ANOTHER project that has to be finished in time for Christmas!) and my SIL decided that she wanted a jungle themed quilt for her nursery instead of Peter Rabbit, and I found a gorgeously perfect panel..
And most people would leave it there. But not me... once the flood gates were open, it was on. It didn't help that there were a whole pile of Black Friday sales being tweeted left, right and centre... The first thing I indulged in was a 21 FQ set of Riley Blake's Delighted from
The Intrepid Thread
, which reminded me how much I love fabric designed by
The Quilted Fish
so I went hunting for some more Sweet Divinity to go with the fabric that I bought a couple of months ago (which will be turned into a quilt and accessories for Blossom's new room when we finally move)... and I found what I was looking for at two separate etsy stores.. A total of 10 yards, made up of 10x Sweet Divinity fabrics, 9x Sugar & Spice fabrics and the "Quite Contrary" Green Stripe by My Mind's Eye. Yes, way more fabric than I will need to make Blossom a quilt, given that I already have 5 yards of Sweet Divinity (5x fabrics).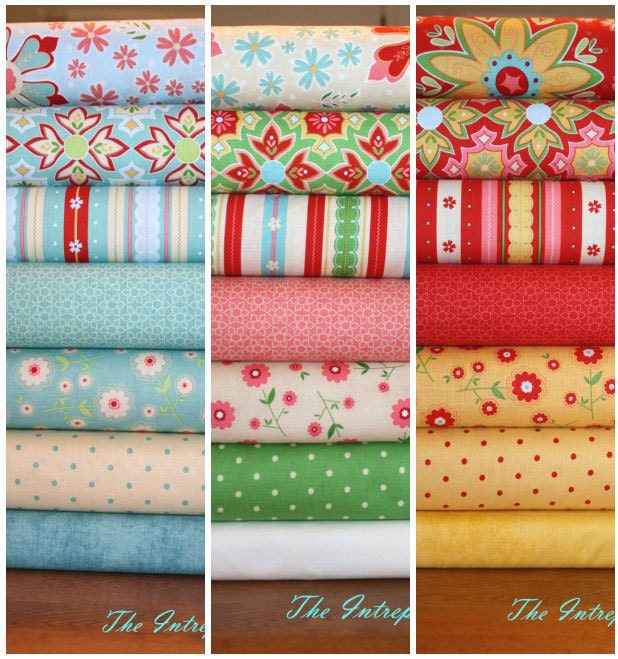 My Christmas present to myself
And then I went back to Spotlight and bought myself a walking foot, some coordinating fabric for my SIL's baby quilt, some more fabric for the teacher quilt (because my backing fabric was an inch short and I decided just to buy another piece than mess around) and then decided that I was all binged out.