So it's Bonnie & Camille week over at Sharon's Craizee Corners, and today is the day that I'm
guest posting
! Yay!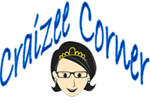 I made a super easy table runner using Bonnie & Camille's Ruby. It's a birthday present for a girlfriend's 30th on Sunday - She's going to love it, right? I hope so!
Incase you have someone that you'd like to make a table runner for, or if you want one of your very own, this is how I did it....
Step 1: Lay out 9x charm squares. Note: Keep in mind that the outer corners are the ones that "stay whole" and the middle square is the one that ends up the smallest.
Step 5. Play around with your blocks until you are happy with your layout. As I decided to make mine look like 3x bordered 4 patch blocks I assembled my blocks into the 3 squares first and then joined those together. To do this, start by joining 2 blocks making sure to match the seams. Repeat until you have 6x rectangle blocks. Press.
The matching spotty backing fabric (from my stash)